End the Siege! The War on Gaza - The US/"Israeli" Siege on Palestine by Charlotte Kates

On June 27, 2006, a new phase of the war against Palestine, and specifically against the people of Gaza, began, when Zionist forces invaded, striking from ground and air, destroying homes, ravaging infrastructure, demolishing bridges, and killing Gaza Palestinians. This invasion followed weeks of assaults upon Gaza that saw a family massacred as they visited the beach, homes and lives shattered by missiles, and repeated assassinations of Palestinian political leaders and resistance activists. Scores of Palestinians have been killed and many more injured, and 64 Palestinian legislators, democratically-elected members of the Palestinian Legislative Council, city mayors, and cabinet members, seized and held prisoner, joining over 9,400 of their fellow Palestinians as political prisoners held in Zionist jails...

Balata Film Collective: Resisting Occupation through Film

Balata Refugee Camp is one of the most hard-hit communities in Palestine's West Bank. The over 30,000 residents, refugees of the 1948 Nakba, live in a heavily militarized zone where tear gas, gunshots, and military searches are a part of everyday life. Full scale invasions by zionist militant forces disrupt daily life regularly in Balata. In 2006 alone, Balata has endured incursions in February and May. But the people of Balata continue to struggle against occupation and oppression. They have built community organizations and centers which allow them to celebrate and defend against the extinction of their culture...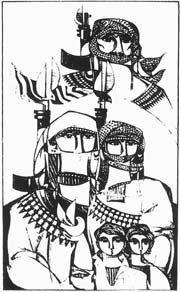 Does the Tail Wag the Dog? Why the US is hell-bent on supporting "Israel, Part 1 by Bill Cecil

Here's a bit of Palestinian history. It begins in Clermont, a city in France. The year is 1095, and nobles and clerics are gathered to hear the words of Pope Urban II. He tells them a lurid tale. Christians in Muslim-ruled Palestine are being forcibly circumcised and their blood spilled on the tomb of Christ. He urges the Christians of Europe, "rich and poor," to take up arms and free the "Holy Land" from a "base race that worships demons," as he calls Muslims. Like Bush's tales of Iraqi WMDs and Qaeda connections, the Pope's story was a complete invention. Christians and other religious minorities in the Muslim Middle East enjoyed much more freedom than did non-Christians in feudal Europe...

Inside the Lines: Dawud Assad by Nazreen Cama

It was well before sunrise, early in the morning of April 9, 1948. Dawud Assad, like most everyone in the peaceful village of Deir Yassin, was asleep. Deir Yassin was at the time surrounded on all sides but the west by Zionist occupiers, but a sort of gentleman's agreement existed between them and the native Palestinians of Deir Yassin; neither side wanted to engage in armed struggle. The Zionist occupiers had left westerly passage through which the Palestinians of Deir Yassin could enter and leave their village unharmed...

Detroit Declaration: Organizing the Palestinian Community in the US

Thirty-two Palestinian organizers and activists from across the U.S gathered in suburban Detroit, Michigan on the weekend of June 23rd-25th 2006, marking the first politically diverse national meeting of Palestinians in the U.S. since 1988. This grouping is NOT a new organization, and in no way intends to become one. It is a loose network of activists and preexisting groups and in no way seeks to take the place of already existing groups...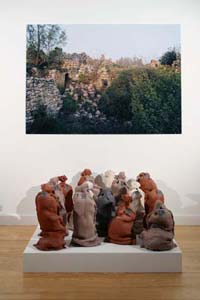 "Made in Palestine" Concludes Historic Run in New York City by Charlotte Kates

The "Made in Palestine" exhibition of contemporary Palestinian art celebrated its opening in New York City on March 16, 2006, to a packed gallery through which nearly 2,000 people entered during the evening. The exhibition, which features works by Palestinian artists in Palestine and in exile, including Rana Bishara, Mustafa al-Hallaj, Suleiman Mansour and Vera Tamari, premiered in Houston in 2003, at the Station Museum, the home of curator James Harithas. Harithas, who assembled the exhibition with the assistance of consultant and "Made in Palestine" artist Samia Halaby, was on hand with several of the exhibition's artists for the gala opening celebration. The exhibition ran in New York from March 16 to May 27, 2006...

Ismail Shammout: A Monument of Palestine, A Monument of Palestinian Art by Samia Halaby

Ismail Shammout died on July 4, 2006. How painful that Palestine was not there around his bed; but all he worked for lives. Born in Al Lydd in 1931, Ismail Shammout had the good fortune as a youth to study with Dahoud Zalatimo. Amazingly, at the age sixteen he persuaded his reluctant father that he could earn a living making art. His father, even more amazingly, provided him with materials and a space to work...

The US Role in Darfur, Sudan by Sara Flounders

What is fueling the campaign now sweeping the U.S. to ?Stop Genocide in Darfur?? Campus organizations have suddenly begun organizing petitions, meetings and calls for divestment. A demonstration was held April 30 on the Mall in Washington, D.C., to ?Save Darfur"...

Canadian Union Takes Step Against "Israeli" Apartheid by Adam Hanieh

At the annual convention of the Canadian Union of Public Employees (CUPE) Ontario, held 24-27 May 2006 in Ottawa, the union passed a resolution of historic importance. Resolution 50?adopted unanimously by the 900 delegates at the largest convention in the union?s history?expressed support for the global campaign against Israeli apartheid. The union stated that it would educate its members on the apartheid nature of the Israeli state and Canadian political and economic support for these practices...

Globalizing the Occupation by Richard Becker

This year the 9th of July is a bitter day for Palestinians. The Occupation Army besieges Gaza, massacres its people and attacks its infrastructure. The ghettos of the West Bank take shape as the Apartheid Wall edges closer to completion and the Palestinian exodus from Jerusalem has begun. Over 9000 Palestinians sit in Israeli prison cells whilst Palestinians who remain on their 1948 lands do so under the subjugation of the most vicious and discriminatory Apartheid system...

What is the objective of the new US/"Israeli" assault? by Richard Becker

The intensifying U.S.-backed Israeli assault on the Palestinian people in Gaza and the West Bank is aimed at dismantling the recently elected Palestinian National Authority (PNA) government and forcing the Palestinians to accept an Israeli-dictated "peace settlement." The Israeli government is utilizing the capture of one of their occupation troops as the pretext to carry out a multi-faceted attack on both Palestinian governmental institutions and the population as a whole...

A Historical View: Israeli Arms Sales to Latin America

The Israeli arms industry is older than the state itself. One can trace its beginnings to the small underground workshops that, before and during the 1948 war, manufactured and repaired various types of light arms, ammunition, light aircraft armoured cars and many types of military hardware used in the initial conquest of Palestine and the eviction of more than a million of its Arab population...



Al-Awda Convention Comes to San Francisco

Al-Awda, The Palestine Right to Return Coalition, and the General Union of Palestine Students at SFSU are proud to announce the Fourth International Al-Awda Convention on July 14-16, 2006 in San Francisco, CA. It will be a strategic planning conference focused on adapting to shifting realities and rising to meet the challenges of our era...

An Evening in New Jersey with Palestinian Prisoner Artist, Zuhdi Al-Adawi by Nancy Olszewski

On Monday, March 13, Zuhdi Al-Adawi - a former Palestinian political prisoner and artist whose work is exhibited in the "Made in Palestine" exhibit in New York - spoke at the New Brunswick Public Library about his life and experience as a Palestinian political prisoner...

NOT GUILTY!

On December 7, 2005, Sami al-Arian, Hatem Naji Fariz, Sameeh Hamoudeh and Ghassan Ballut were acquitted of nearly all charges against them...

Al-Awda Newspaper Needs Your Support

This newspaper is the result of the work of many, and the contributions of many. It aims to provide a forum and a venue for informing the public, discussing community concerns, and organizing for justice in Palestine, within North America, and internationally....
---
Al-Awda is published monthly by New Jersey Solidarity-Activists for the Liberation of Palestine. We welcome submissions, letters to the editor, cultural works, and other proposals for publication.
Contact us:
Al-Awda Newspaper
(973) 954-2521
info@newjerseysolidarity.org
http://www.newjerseysolidarity.org
New Jersey Solidarity
344 Grove Street, Suite 131
Jersey City, NJ 07302
Our editorial collective is responsible for editing, laying out and developing this publication. We are open to new members who are in accord with the mission and principles of this newspaper.
Please contact us about your upcoming events and activities of interest to readers of this publication.
Please contact us for advertising rates and information, or for material on becoming a distributor.