Read the May 2005 issue of Al-Awda - Voices of Resistance and Liberation newspaper!
UNITING FOR IRAQ AND PALESTINE
Palestine, the Antiwar Movement and the September 24 Demonstrations
April 20, 2002 was an historic day for the U.S. anti-war movement. Amidst the siege of Jenin, rampant Zionist brutality and surging Palestinian resistance, tens of thousands upon tens of thousands of Arabs and Muslims in the United States took to the streets in a massive demonstration that united protesters against the World Bank and International Monetary Fund....
July: An Eye on Palestinian History
July 8, 1972 - Ghassan Kanafani assassinated in Beirut... Renowned Palestinian novelist, poet, writer and activist Ghassan Kanafani was assassinated by the Zionist Mossad in Beirut in 1972. Ghassan Kanafani was born in Acre in 1936, and his family was expelled from Palestine in 1948 by Zionist terror....
Indigenous Struggle - from Palestine to Turtle Island
The New York Committee to Defend Palestine on June 2nd held a teach-in that examined the parallels between the struggles of the Indigenous people of Turtle Island (commonly referred to as "North America") and the indigenous people of Palestine -- the Palestinians.....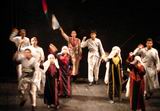 The Children of the Camps and the Spirit of Return
The young actors, dancers and singers of Al-Rowwad Palestinian Children's Theater visited New Jersey and New York between June 17-22, as part of their U.S. tour that also includes stops in Connecticut, Vermont and Louisville, Kentucky. Al-Rowwad center in Aida camp was founded and is directed by Dr. Abdel Fattah Abu Srour....
Reports from Palestine by Samia Halaby
June 10th, 2005, Al Quds - When my friend drove me to the bus station in Haifa, memory transported me to Yafa and to being eleven years old and it being 1948. All the signs of nearly sixty years of occupation clearly told me that my entire society had been crushed to give life to these unimpressive Jewish occupiers....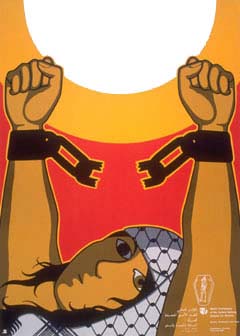 From the U.S. to Palestine...
Free All Political Prisoners!

Arab Political Prisoners in U.S. Jails:
The Case of Sheikh Mohammed Al-Moayad and Mohammed Zayad
From Mumia Abu-Jamal to Leonard Peltier, political prisoners are no strangers to U.S. prisons. The so-called "war on terror" has served as a war of terror against the Arab and Muslim communities....
The Los Angeles 8: Fighting for Freedom, 18 Years Later
The United States government has often silenced critics of its domestic and foreign agendas. This silencing campaign is directed most harshly at immigrant dissidents, many of whom have witnessed the brutal impact of U.S. foreign policies in their homelands....
Sami al-Arian: Four Months and No Evidence
Sami al-Arian, Palestinian professor and activist from Tampa, FL, is now on trial, with three co-defendants, in Florida under spurious charges of "material support" to Palestinian Islamic Jihad....
Lies of the "Israeli Peace Movement"
How clever the oppressor is, learning the language and ways of the oppressed and insinuating himself among them. "Yes, yes" he says, "I too am oppressed - can we sit side by side and declare our common cause?" The US "peace and justice" group, Brit Tzedek v'Shalom, recently sent an announcement to a listing of peace events in Massachusetts for a meeting to do just this....
Justice for Peace
In recent months consistent rhetoric and meetings on the highest diplomatic levels have led many to be "optimistic" about future negotiations over Palestine. President Bush held meetings with the leaders of both parties and has repeated commitments to achieve a lasting peace. Yet the point we are at today is far behind that at which we stood years ago in Oslo....
Popular Committees of the Intifada
The Palestinian struggle for national liberation has always been spearheaded by the most oppressed sectors of society – workers and peasants from cities and villages and refugees driven from their homes and lands in 1948 and remaining in refugee camps today....

Where are your Grandparents From?
Many people do not know who the Palestinian people really are, nor who are what they refer to as "Israelis." In fact, it seems that most people believe that the colonialists and settlers in Palestine have "always been there," and that Israelis are indigenous to the land of Palestine....
Palestine and the U.S. : A Call for Solidarity
The history of the United States and Palestine is one of settler-colonial relationships governed by imperialist interests, manifest inequality in power and wealth, and the continuing commitment of a people to their freedom and their national rights against the greatest obstacles....
"Feast for Falasteen" A Great Success

Al-Jisser Group, the New York City-based Arab art and culture group, held a fundraiser for the "Made in Palestine" art show on May 16, 2005, at Mamlouk Restaurant in New York....

Poetry

"Memory is the cactus of exile" by Aida Qasim
---
Al-Awda is published monthly by New Jersey Solidarity-Activists for the Liberation of Palestine. We welcome submissions, letters to the editor, cultural works, and other proposals for publication.
Contact us:
Al-Awda Newspaper
(973) 954-2521
info@newjerseysolidarity.org
http://www.newjerseysolidarity.org
New Jersey Solidarity
344 Grove Street, Suite 131
Jersey City, NJ 07302
Our editorial collective is responsible for editing, laying out and developing this publication. We are open to new members who are in accord with the mission and principles of this newspaper.
Please contact us about your upcoming events and activities of interest to readers of this publication.
Please contact us for advertising rates and information, or for material on becoming a distributor.