Read the past issues of Al-Awda - Voices of Resistance and Liberation newspaper!

May 2005
June/July 2005
September 2005
Palestinian Elections: A View from the Diaspora by Hatem Abudayyeh

Oslo is dead. This is not much of a scoop, as analysts and pundits have been saying and writing these words for many years, at least since the Intifada of September 2000 began. But now that the Palestinian Legislative Council (PLC) elections of January 25th, 2006, are over, we can officially turn off the lights on the agreement...

Building Solidarity: Where are We Going? by Charlotte Kates

The Palestine solidarity movement stands today at an important historical moment. Five and one-half years into the Al-Aqsa Intifada, a defensive movement of Palestinians against an ongoing assault and encroachment upon their national existence, amid the U.S. occupation of Iraq and Afghanistan and threats issued daily to Iran and Syria, and following January's important elections in the West Bank and Gaza, Palestine remains under attack, and its people continue to resist....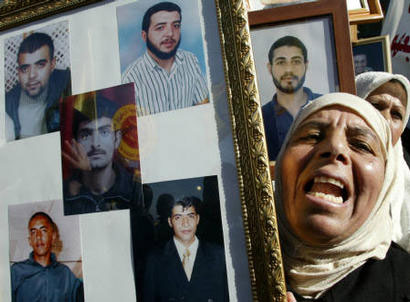 Justice for Palestinian Political Prisoners

Among the numerous humiliations inflicted upon the Palestinian people by the colonial project known as "Israel" is the illegal detention and imprisonment of more than 8000 Palestinians. Since the expansion of the occupation in 1967, over 650,000 Palestinians have been detained by the zionist occupier. This amounts to one of every five Palestinians in the West Bank and Gaza facing detainment at some point during her or his life. ....

Inside the Lines: Paola Rizzuto by Nazreen Cama

?Oh, so what are you here to do, liberate us?? The man who spoke went thick on the sarcasm. As a Palestinian living in the West Bank, he?d become jaded after years of seeing promises of amelioration dissipate into the hazy blue sky. Rutgers University undergrad Paola Rizzulo was not sure what to expect. It was her first time inside the lines....

"Chasing After Birds, Finding the Sky..." by Lora Gordon

Ali's fourteen-year-old eyes are wide brown almonds, a near perfect copy of his father's, which shine like mirrors through the hair that covers his face like a tangled vine. Ali´s younger brother Mahmood stares back at them from the poster on the wall, his eyes finely crafted by identical genes, his small face a mirror for his brother's, his thin arms tangling with his brother's arms in bed at night...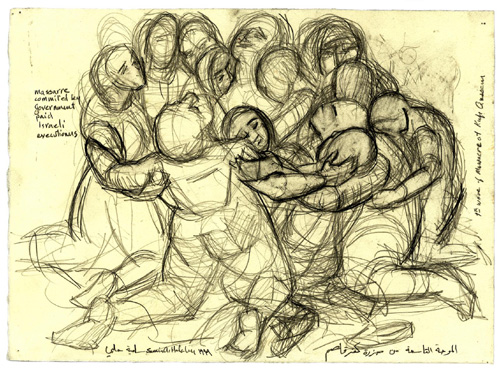 The Art and Activism of Samia Halaby by Maymanah Farhat

Samia Halaby has been contributing to the development of international art for nearly fifty years. As one of the most established Palestinian-American artists, Halaby?s work is aligned with the progression of the Palestinian art movement, which is renowned for its deep connection to Palestinian culture and political advocacy. Her dedication to the self-determination of formally colonized peoples has lead Halaby to explore creative venues that surpass the rigid boundaries of the mainstream art world....

Organizing the Palestinian Diaspora: The View from North America

In December, 2005, Palestinian exiles from around the world met in Geneva to work to develop a program and a plan for the expansion and reactivation of structures to organize the Palestinian exile community and activate its political presence within the Palestinian national liberation movement. The following document was prepared by the North American delegation to Geneva, for discussions there, and to guide the work that will be taking place in the coming months to build community organizing and institutions among Palestinian exiles in North America...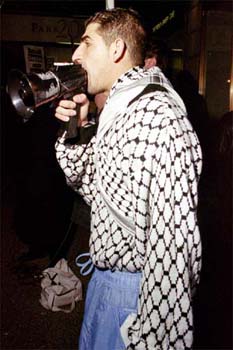 Repression of Palestinian Activists in the US: Where are the Defenders of Justice? by Noah Cohen

The purpose of this article is rather to observe something about the recent history of repression against the Palestinian cause in the US, as yet uncommented in most of the current discussion of civil liberties. This silence is a glaring omission to anyone directly involved in pro-Palestinian organizing over the last few years. In fact, by the end of 2003, both of the two Palestinians who had spoken from the national stage in DC on April 20th had been detained; one was subsequently forced to leave the country, the other faces long-term imprisonment inside the US. In Boston, five of the central non-citizen Palestinian organizers had been forced from the country; two had also been detained by the INS or by its later incarnation, the Department of Homeland Security, and one had also been tortured in custody. Why have these facts not been more generally discussed? More importantly, why has so little been done about them?

Successful New Jersey Fundraiser for Al-Jisser by Maymanah Farhat

The New Jersey based organization Friends of Al Jisser held a cultural benefit on Saturday to raise money for the Made in Palestine art exhibit that is scheduled to open in New York City this spring. The cultural benefit, Min Layali Falasteen, was held at the St. George Church Hall in Little Falls and included an evening of dinner and entertainment. ....

Zionism in Boston by Richard Hugus

With few people being aware of it, the state of Israel has established key outposts in Boston, Massachusetts. It is customary for other countries to maintain embassies and consulates in large cities in the US, but in Boston, Israel, in addition to its consulate, and on top of its Anti-Defamation League and its Combined Jewish Philanthropies, also has two unique, nationally known organizations working especially for its interests...

Arab Women Active in Arts and Media by Fazoura Zaki

At a catering hall in Bensonhurst, the scene is festive: a large room bustling with women, girls and children celebrating the recent wedding of their friend, sister, daughter, in-law, niece. While half of the crowd dances to the Arabic music booming out of two large speakers propped up on chairs, the other half enjoys the company and the scenery, occasionally taking a turn at the dance floor as the music shifts every now and then...

Sudan Needs Help, Not Divestment by Isma'il Kamal

The tragedy of Darfur, for all of us Sudanese, is and will remain a deep scar for years to come. The causes and roots of the conflict are, however, complex and intertwined. This is why many of us are baffled to the oversimplified and misleading portrayal of the conflict as Arabs against black Africans....



Screening of "Frontiers of Dreams and Fears" by Nancy Olszewski

On November 9th New Jersey Solidarity presented a screening of the film "Frontiers of Dreams and Fears." The film focuses on the friendship of two teenage girls - Mona Zaaroura and Manar Majed Faraj...

"Acts for Palestine" for "Made in Palestine" by Nancy Olszewski

On Sunday, Otober 16th & Monday October 17th the AlJisser Group, The Kazbah Project and Nibras Arab American Theatre Collective presented "Acts for Palestine" a series of one-act plays by Palestinian playwrights for the benefit of the art exhibit "Made in Palestine"...

NOT GUILTY!

On December 7, 2005, Sami al-Arian, Hatem Naji Fariz, Sameeh Hamoudeh and Ghassan Ballut were acquitted of nearly all charges against them...

Al-Awda Newspaper Needs Your Support

This newspaper is the result of the work of many, and the contributions of many. It aims to provide a forum and a venue for informing the public, discussing community concerns, and organizing for justice in Palestine, within North America, and internationally....
---
Al-Awda is published monthly by New Jersey Solidarity-Activists for the Liberation of Palestine. We welcome submissions, letters to the editor, cultural works, and other proposals for publication.
Contact us:
Al-Awda Newspaper
(973) 954-2521
info@newjerseysolidarity.org
http://www.newjerseysolidarity.org
New Jersey Solidarity
344 Grove Street, Suite 131
Jersey City, NJ 07302
Our editorial collective is responsible for editing, laying out and developing this publication. We are open to new members who are in accord with the mission and principles of this newspaper.
Please contact us about your upcoming events and activities of interest to readers of this publication.
Please contact us for advertising rates and information, or for material on becoming a distributor.