Zionist Tradition of Terrorism
ZIONISTS LIQUIDATE PALESTINIAN INTELLECTUALS AND LEADERS
Assassination of many Palestinian leaders, authors and intellectuals, by Zionist secret agents around the world, is a part of the Zionist terror campaign launched against the Palestinians. It also shows the determination of the fascist rulers in Tel Aviv to continue to annihilate the Palestinian Revolution, its leaders and representatives abroad. With implicit American approval, the Israeli intelligence agency went beyond the normal espionage operations, to a great extent, when it waged a war of elimination against the Palestinian leaders and cadres whom Israel considers undesirable. Following is a list of some Palestinian leaders and intellectuals murdered by Mossad and its paid agents.
1972
- Ghassan Kanafani, an author, also the spokesman of the Popular Front for the Liberation of Palestine (P.F.L.P), was assassinated by Mossad agents in Beirut when the explosive device, planted in his car, went off. Kanafani's niece Lamis was also killed in the incident.
1973
The Mossad assassinated Wael Zuaiter in Rome, a diplomat who worked for the Palestinian Resistance.
- Mossad agents murdered Mahmoud Hamshari, the P.L.O. representative in Paris and Muhammad Boudia, an Algerian citizen working for the Palestinian Resistance, who was also killed by a bomb planted by Mossad agents and detonated by radio control. Two weeks later, a Zionist assassination squad also murdered Basil Kubaisy of the P.F.L.P. in Paris. On April 10, 1973, western European "tourists" paid by Mossad, killed several Palestinians in Beirut, among them Kamal Nasser, the P.L.O. spokesman, and Kamal Adwan and Muhammad Yousef Najjar, also P.L.O. officials.
1974
- Israeli agents shot dead Ahmad Bouchikhi, a Moroccan waiter who was working in a restaurant in Norway. The killers mistakenly believed that he was an official in the Palestinian Resistance.
1975
- Zionist agents attempted to blow up the Solidarite Franco-Arabe office in Paris. French police discovered the bomb, only minutes before it was due to explode. In the same year, Zionist agents set fire to Paris bookshops which were selling material favourable to the Palestinian cause.
1977
- Mossad murdered Mahmoud Salih, a Palestinian militant in Paris.
1978
- Said Hamami, the P.L.O. representative in London, was shot dead in his office by Zionist professional killers.
1979
- Ali Hassan Salameh, a Fateh security official, was assassinated in Beirut along with other P.L.O. militants by a radio-controlled explosive device. Mossad also murdered two P.L.O. members, Abu Safwat and Samir Tougan, in Cyprus.
1980
- Municipal leaders in the occupied West Bank were also subjected to murder attempts by Zionist agents. Karim Khalaf, Mayor of Ramallah, and Bassam Shaka'a Mayor of Nablus escaped death on the same day when Zionist agents planted explosive devices in their cars. Khalaf was rushed to hospital suffering from critical injuries while Bassam Shaka'a lost both his legs. Zionist authorities also deported two mayors out of their own country. The Mayor of Halhoul, Muhammad Melhem, and the Mayor of Hebron Fahd Qawasmeh were exiled. The latter and others had been resisting the Zionist occupation and has spoken openly of supporting the P.L.O.
1981
- Dr. Naim Khader, the P.L.O. representative in Brussels, was shot dead by Zionist agents while entering the building in which his office was located. Dr. Naim Khader had an ability in explaining the Palestinian cause objectively and convincingly to European public opinion. Three months later, Zionist agents planted an explosive device under the bed of Majed Abu Sharar in his Rome hotel room. Abu Sharar, who was the head of P.L.O. Unified Information, was burned almost to ashes due to the quantity of Hexogyn, the principal material of which the bomb was made.
Zionist agents during 1981 committed some very barbarous crimes in Beirut and other parts of Lebanon. After the American-made Israeli F-16s raided Beirut and south Lebanon in savage attacks in which over 500 civilians were killed and over 1000 injured, Israel decided to continue its war of liquidation against the Lebanese and Palestinian peoples.
Israeli agents used a booby-trapped car in bombing the densely populated Skandarani street in Sidon in which 28 people killed and 135 injured. The victims were mostly women and children. Shortly after that, another booby-trapped car containing 40 kgs of Hexogyn and 80 litres of petrol exploded in Tibi street in Beirut killing 120 people and injuring 300 more, mostly shopkeepers and university students.
---
1981: OVER 2,000 VICTIMS OF ISRAELI AND ISRAELI-BACKED TERROR IN LEBANON
Over two thousand people died last year in Lebanon as a result of Israeli raids and acts of Israeli-backed militias. This emerges from information released by the Lebanese police recently and quoted by the GDR news agency ADN on January 3, 1982. In July 1981 alone, some five hundred Lebanese and Palestinians were killed in the barbaric Israeli artillery shelling and air raids against the southern part of the country and the western part of Beirut. Exchanges of shelling which time and again erupted between the two sectors of the Lebanese capital claimed a further 360 lives. Almost 250 persons were killed in the large number of bomb explosions and attacks of other types carried out by rightist forces in order to prevent the situation in Lebanon from normalizing.
---
ISRAELI GUNBOATS INTERCEPT LEBANESE FISHERMEN INSIDE TERRITORIAL WATERS
On January 23, 1982, Israeli gunboats intercepted 30 Lebanese fishing boats off the coasts of Tyre, Ras al-Ain and al-Shawakir in south Lebanon. The Israeli naval vessels attacked the fishermen's boats sinking two of them and damaging many others. Two men, Josef Katra and Yousif Fakhouri, were seriously wounded and thrown overboard. They were later rescued by their companions and sent to Jabal A'amil Hospital in Tyre. It is worth mentioning that this is the first clear Israeli infringement of the current cease-fire in south Lebanon, which so far, has lasted nearly seven months. But it is not the first time that the Israelis have intercepted the fishermen at sea and damaged their boats, nets and catches or kidnapped some of them, as happened many times during 1981.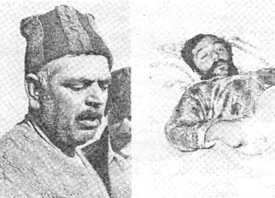 Yousif Fakhouri and injured Josef Katra.
Josef Katra, one of the two injured men now in hospital said: "My boat was smashed and I fell into the water with wounds in my leg and arm. My brother rescued me and took me to the hospital."
Yousif Fakhouri, who had to swim back to the shore said: "After about half an hour in the water the Israeli forced me to swim back to the shore under threat of death.
"The Israelis tore all of our 40 nets," he added. "I was used to the Israeli gunboats approaching and inundating my boat with water, forcing me to abandon my nets and return home. The nets are the key means by which I earn my living. This time, the enemy gun boats willfully rammed me at high speed, sinking my boat."
A 24 hour strike was declared by the Fishermen's Union in the southern Lebanese port of Tyre on January 25 in protest against repeated Israeli aggression and harrassment against the town and its citizens.
The president of the Fishermen's Union, Mr. Ibrahim Farran stated that such aggression is part of a plot to force the fishermen and their families into leaving the South. He added: "The fishermen made a complaint to UNIFIL which stated that this kind of aggression is habitual in the south. The Israelis it seems, are escalating their terroristic acts. The aggression was previously against only one or two fishermen but now it is against all the fishermen. This constitutes a serious threat to the living conditions of a wide sector of the population of south Lebanon."
---
Palestine - PLO information bulletin has been archived online as a project of New Jersey Solidarity - Activists for the Liberation of Palestine.
Originally published by The Palestine Liberation Organisation Unified Information as a bi-monthly information bulletin with copy permission granted via the notice "Partial or total reproduction is freely permitted by 'Palestine Bulletin'"
Contact us: New Jersey Solidarity - Activists for the Liberation of Palestine
(973) 954-2521
info@newjerseysolidarity.org
http://www.newjerseysolidarity.org
New Jersey Solidarity
344 Grove Street, Suite 131
Jersey City, NJ 07302