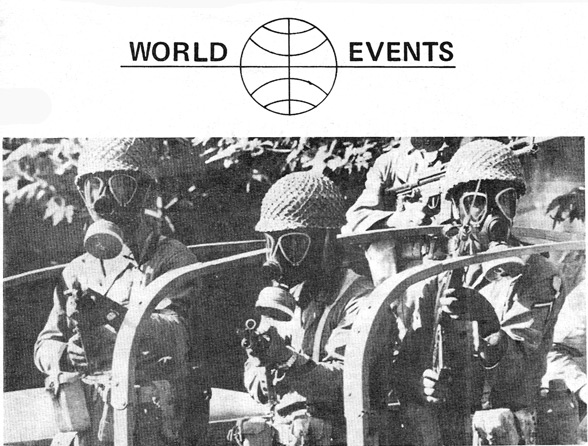 SOUTH AFRICA DEVELOPING CHEMICAL WARFARE GASES WITH GERMAN AID
With German support the white supremacist regime of South Africa is producing chemical warfare materials. This was made public on 17 October 1978 by the "Zimbabwe People's Voice", the organ of the Zimbabwe African People's Union (ZAPU).
The plant for the production of the chemical warfare gases is situated in the South African Province of Orane Free State. With financial aid from West Germany, the racist regime has stockpiled the chemicals to be used against the liberation movements and people of Azania, Namibia and Zimbabwe.
RHODESIA RAIDS ZAMBIA
On 20 October 1978, Rhodesian Air Force planes raided deep into neighbouring Zambia on what they claimed to be "a main camp for the forces of nationalist leader Joshua Nkomo."
Reuter reported from Zambia that the planes had attacked "a refugee camp of Nkomo's Zimbabwe African People's Union (ZAPU). The aeroplanes swooped over the camp, their bomb strikes marked by vivid orange flashes, 20km north of Lusaka." In the attack well over 200 refugees were killed, mainly women and children.
THE SHAH'S BIRTHDAY MARRED BY VIOLENCE
The Shah of Iran celebrated his 59th birthday on October 27 together with a year of mounting protest against his rule.
In Tehran, troops patrolled the streets as demonstrators took to the streets calling for the removal of the Shah's rule. Soldiers fired in the air to break up the demonstrators in the holy city of Qom.
In the city of Jahrom the police chief was killed and the martial law administrator wounded to mark the Shah's birthday. The Shah, no being able to have the usual lavish celebrations because of the protests, spent the day at the ornate Golestan Palace in central Tehran dressed in full military uniform as commander-in-chief of the armed forces.
---
Palestine - PLO information bulletin has been archived online as a project of New Jersey Solidarity - Activists for the Liberation of Palestine.
Originally published by The Palestine Liberation Organisation Unified Information as a bi-monthly information bulletin with copy permission granted via the notice "Partial or total reproduction is freely permitted by 'Palestine Bulletin'"
Contact us: New Jersey Solidarity - Activists for the Liberation of Palestine
(973) 954-2521
info@newjerseysolidarity.org
http://www.newjerseysolidarity.org
New Jersey Solidarity
344 Grove Street, Suite 131
Jersey City, NJ 07302