DISPERSION AND RESISTANCE - PALESTINIAN FAMILIES IN CHATILA CAMP
Chatila is one of the Palestinian refugee camps in Lebanon. It lies in the south-eastern sector of Beirut, near the airport. In the course of the Lebanese civil war, influx of Palestinians from other camps increased tremendously. They had to flee from Tal al-Zaatar, Jisr al-Basha, Dubaieh, Nabatieh and other places which were either liquidated by fascist Lebanese militias or attacked by Israeli raids. This explains why Chatila is now crowded with over 10,000 people. Its narrow, muddy alleys and its huts, scattered in disorder, reflect the ordeal and turbulent history of the Palestinian refugees, many of whom had to change their domiciles three times or more during the recent past.

The houses differ in shape and construction. Most of them have one storey with roofs made of corrugated iron. Few "buildings are made up of 3 storeys. The lanes are congested with pedlars, and children in worn out clothes playing in the narrow "streets" of the camp. On the day of our visit, water was exceptionally abundant in the camp, so most of the women there were washing and hanging up clothes.

UM AMAL

We wanted to meet some of the families and first went to the Fateh center which lies in the middle of the camp. The brothers led us to the house of Um Amal and her family. They described how Um Amal sends cooked food to the Fateh office, how she comes in the night to offer her only gas lamp, when - as happens often - the electricity is off. We walked through many twisted alleys before we reached Um Amal's house. She greeted us with a kind smile, standing in the small yard of her house where she was hanging up her washing to dry. After entering, we sat down in a small modest room. On one wall, a picture of Abu Ammar was hanging, and on another a picture of her husband a young man in military uniform.

Um Amal told us that she came from occupied territory six years ago and lived in Chatila ever since. She has five children, of whom the eldest, a girl named Amal ("hope") is 11 years old. Um Amal continued:

"It is very hard to tell you all about my miery and suffering since the occupation started. Because seeing and feeling things isn't like talking about them. I come from a small town in Gaza called Mokhaime al-Shatee. When the Israeli invasion troops entered our town in 1967, they captured all the men including my husband. At that time, I had only Amal. For a whole year I knew nothing about my husband. I didn't know whether he was in an Israeli prison or dead. After one year, news reached me that he was still alive and that he had fled to Lebanon. There he joined the Palestinian Liberation Army. For the next years I remained separated from my husband barely hearing from him, and really not knowing what to do. The disturbing thing was that the Israelis always came and asked me about my husband, but I was as ignorant as they pretended to be. They didn't believe me.

THE OCCUPATION

During my stay under occupation, I got to know what it really means. During late hours my family and I used to be awakened by persisting knocking on our door, the Israelis would come in 'looking for fedayyin' under beds and in cupboards. Sometimes early in the morning we used to be awakened by the sound of Israeli armoured vehicles or tanks moving along our narrow streets. They were searching for unknown fedayyin, evacuating or blowing up houses. They came into the houses especially when th men weren't around. It happened that their soldiers raped the women."

At this point Amal, the eldest girl, interrupted us by saying:

"I once threw a stone at an Israeli soldier who was after me, and when he ran to get me I ran away. I don't like them and I wish I could beat them all because they took away our land and home."

Um Amal continued: "After several years I received a message from my husband in Lebanon telling me that he had managed to make his living and asking me to come. It was a hard decision to make. I didn't want to leave my land and my family despite the occupation. But I wanted to join my husband. So I left for Beirut. But I was shocked when I found that my husband had meanwhile married another woman and already had children with her. That was hard for me to bear."

"THEY CAN'T MAKE US DISAPPEAR"

"Life at the camp here has improved, since there are now facilities that the Revolution has offered us. My children are going to school, eldest son already has joined the Ashbal (Palestinian cubs). We have free medical care. My husband is still serving the cause, and we can exist on his salary. So, my personal life is better off than it was after the occupation at home, but still we all want to return. We always live in expectation of new attacks, either by the fascists or by the Zionists.

"Our life is always provisional and unsettled, our future completely uncertain. During the periods of bombardment, life becomes unbearable in the camps. We continue to resist. I have good faith in our brave fighters whose hands will bring victory. One day they (the enemy) will have to understand that they can't make us disappear."

After the visit to Um Amal's home, we went together to meet Salah al-Hajj Mohammed who is a man of 56 years and comes from Safad in northern Palestine, occupied in 1948. He told us about his life in Palestine before the expulsion by the Zionist terrorists. A decorated zinc kettle boiling over the couch produced a wonderful smell of fresh Arab coffee and provided at the same time a touch of Palestinian handicrafts.

HAJJ MOHAMMED

Hajj Mohammed said:

"At that time they uprooted our people. I remember when in October 1948 the Zionists started shelling and attacking the Arab villages in Palestine from the air. They also shelled Safad. The people tried to stand up to that, by using the only weapons they had, and these were old guns and rifles. That was when 13 men from my town were killed. I also remember when the Zionists raided the village and planted bombs around the houses, and how I climbed to the roof and started throwing stones and sand to prevent them from accomplishing their work. I had no arms. Then I left, together with some other men, and we went to Aleppo and bought arms and ammunition. Then we returned. Since the shelling of Safad and other cities had increased, the men decided to evacuate the women and children from the town. At the same time, each town sent 50 armed men to help in resisting the Zionist aggressors. But our forces were not enough compared to what the enemy had and the support from abroad he got. Also the Zionists started deliberate massacres among civilians in a number of villages and towns. Eventually, I decided to take my family and as much as I could carry from my land's products, and leave for Tyre in Lebanon.

"In Tyre we stayed in the North Tower camp where thousands of Palestinian refugees families were crammed together. In 1953, I came to Chatila camp where I started working as a carpenter. Before, aid supplied by UNRWA had helped to keep my family alive."

TO GIVE OUR CHILDREN A FUTURE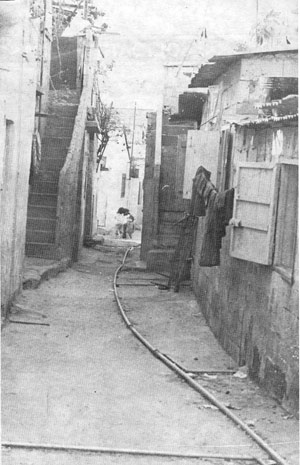 We asked Hajj Mohammed if he had noticed any changes in the camp since he came in 1953. He said:

"There is no doubt that our situation in the camps, and our general situation, has improved since the birth of the Palestinian Revolution. The Resistance organized our camps, now we have a municipality, and basic services like water pipes. Moreover, and most of all, the Palestinian Revolution protects us from Israeli air raids and all the other kinds of aggression. We feel that the struggle goes on to stop the Zionist expansion, to regain our land and to give us and our children a future. What I want to say in short is that even if I owned a 12 storey building and was asked to give it up for the sake of returning to our homeland, I would gladly do so. How else can we end the permanent attacks? Now, I have one boy, a student, and one married girl living in Kuwait. Another boy is working in Libya. My youngest son and daughter are living with me, but the boy intends to go to the US to continue his studies there, for study conditions in Lebanon have been made unbearable. If there is no war, once every year my scattered children come to visit me."

When we left Um Amal and Hajj Mohammed, one picture prevailed in our minds: the picture of permanent insecurity, threat to life and social disintegration. The only thing these people can cling to, since their future is permanently unsettled and threatened, is their legitimate homeland and the organisation of their resistance against aggression and deprivation.
---
Palestine - PLO information bulletin has been archived online as a project of New Jersey Solidarity - Activists for the Liberation of Palestine.
Originally published by The Palestine Liberation Organisation Unified Information as a bi-monthly information bulletin with copy permission granted via the notice "Partial or total reproduction is freely permitted by 'Palestine Bulletin'"
Contact us: New Jersey Solidarity - Activists for the Liberation of Palestine
(973) 954-2521
info@newjerseysolidarity.org
http://www.newjerseysolidarity.org
New Jersey Solidarity
344 Grove Street, Suite 131
Jersey City, NJ 07302